I totally LOVE this pic that Nadia edited for me!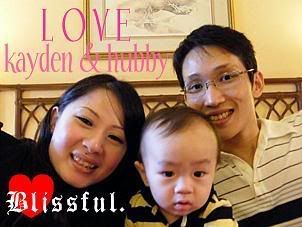 Today was another family day for little prince & my parents... Time flew past very fast... In another 1 day's time, it's a brand new year 2008... Have you people make any plans for the Countdown 2008? If yes. then good for you! =)
Drove back to 妈咪's place about 3+pm before getting caught in the rain... Little prince was busying playing the balls that 爹地 got for him... After 妈咪 & 爹地 got themselves ready, it started to rain damn heavily & we had to brave our way out in the rain to my car as we doesn't want to stay @ home... 爹地 suggested to go over to the new Kallang Leisure Park as it was renovated & it's totally different from the old Leisure Park... It's been donkey years since I last went there so I'm ok with that idea, although I prefer to go shop for little prince's CNY clothes as well as mine...
It's raining cats & dogs while on the expressway... It's my 1st time to drive under this kind of situtation & I had to drive damn slow as the rain was way toooooooooooooooo heavy & it almost blurred my vision on the road... Reached Kallang Leisure Park around 6.40pm & it's still raining heavily... The moment I stepped into the mall, I was kinda disappointed as the shops not fully opened & it's still very bare...
Headed to the foodcourt to have our dinner & it's pretty crowded but we still managed to find a seat... During dinner, little prince was screaming @ the top of his lungs for no reasons... Although I know there's nothing we can do to stop him from doing that (as it's their learning process), but still kinda irritating to my ears... Sometimes he even did that in the car when I'm driving... After dinner, we went walked around the premises & then to Cold Storage as I need to get baby wipes for little prince... We went home shortly as there's really nothing much to shop there... While on the way home, little prince did that irritating screaming again... duhz~
老公 came down to fetch us as he need to buy his cigarettes & he offered to take little prince's diaper bag... And while on the way there, I think 老公 accidentally lost one side of little prince's shoes... I only found out when he came home... Now I have to go get another pair of shoes for little prince, if not he will not have any shoes for his shopping trips...
Tomorrow's another 1/2 day for me as it's New year's eve! Gonna buy a pair of shoes for little prince after work... Till now, I have no plans for the countdown thingy as it's pretty not worth & expensive to go clubbing (cuz of the cover charges)... Or maybe I should just stay home & countdown with 老公 & little prince? Hmm... We shall see about it!
Thanks for editing the pic for me! I LOVE IT VERY VERY MUCH! MUACKS~