Today met Charmaine again @ PS (this time!) for a lunchie shopping as I need to get certain things as today's not my day... Don't want to mention about it...

Time past very very slow & I almost fell alseep @ work... I simply LOVE the artwork that 老公 had done for me... It's sooooooooooooooooooooooooo NICE! LOVE IT VERY VERY MUCH! I really MISS little prince VERY VERY MUCH @ work... 老公 did that for me as he knows I miss little prince VERY VERY VERY MUCH Although he still can't talk, but when I called back to ILs' office to check what he's doing, my fil will pass the phone to little prince & when I called out little prince's name, he will go "mmmm.... mmmm...." as if he's talking to me...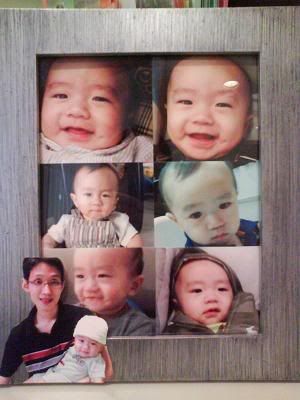 Supposed to stay home after work, but due to some circumstances, met up with Charmaine + Adel for dinner @ Sakae Sushi, Changi Airport... Hopefully things will turn out fine...
Can't wait for Christmas to arrive! So that little prince can open & destroy his pressies' wrapper... It's little prince's 1st christmas in his life! Hopefully he enjoy it even if he still don't know how to talk & walk...
Thanks for the dinner companion & the food! Thanks for shopping with me this afternoon during lunch too!