Today was the pre-X'mas steamboat celebration over @ Eunice's place... Dragged myself up @ 10.45am to get ready as we supposed to meet @ 12pm... Set off with little prince @ about 11.50am & reached Eunice's place around 12.15pm... The food was already all set up when I arrived & Darren + Ganden + Rinzen & Charmaine + Sam + Adel were already there... Charmaine went over to pick Catherine up as WY + Janine were sick & staying home...

We had lotsa fun catching up & taking photos... Even little prince enjoyed himself by helping himself with Reiko's toys... Rinzen was damn super duper adorable... She's soooooooooooo chubby & she looked soooooooooooo different from the 1st time I saw her till now... And I finally get to see Regan as I couldn't attend his baby shower due to my grandfather-in-law passed away...

The food was great & the companion was good too... Glad that we had this gathering after so long as most of us too busy to meet up for gatherings... Normally is only meeting up for lunchie (when I'm still a SAHM) or dinner or supper... Can we have more of these kind of get-together event? Maybe we should have one again before New Year? lol...
Left Eunice's place around 4+pm as I need to pick 妈咪 & 爹地 up for dinner with my aunties & granny @ Meng Xiang Restuarant... Was kinda worried that doesn't have any parking lots available if go late... So went straight to Amoy Street after picking them up... My auntie smsed me that the dinner was @ 6pm & we reached @ 5.40pm... Called my aunite & she said she smsed the wrong timing as it's supposed to be 6.30pm... So we went over to Far East Square to walk around till it's almost time for the dinner... Had a fabulous meal & little prince was being carried by almost all my aunties over the dinner & went home sweet home... Little prince kinda yang-o today... He only wants my 爹地 to carry & when he passed little prince to 妈咪 when getting in the car, he cried & no matter how 妈咪 coaxed him also no use... Only when 爹地 carried little prince to the front seat, then he finally stopped crying & started playing with 爹地... Naughty little prince... Forgot to bring little prince's X'mas pressies from Darren, Charmaine, Catherine & Eunice... Will take a pic of it tomorrow when I bring it up...


妈咪 got clothes for little prince... Thanks 妈咪!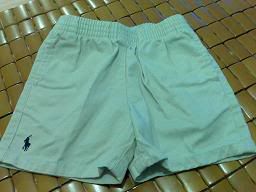 Ralph Lauren shorts
Ralph Lauren shorts
Osh Kosh B'Gosh jumper

To Eunice:

Thanks for 'leanding' your place for the gathering! Thanks for it!


To Charmaine, Eunice, Catherine & Darren:

Thanks for the steamboat & the companion! It's been a long time since we had a gathering like this. Had a great time with you peeps & LET'S HAVE MORE OF THESE OK? =)Hopefully the kiddos like the pressies that I gave them.