Today I took leave as I need to go for my followup checkup @ Changi General Hospital for my hives... I was pretty late for my appointment but I didn't waited for very long till it's my turn... The doctor asked my those routine questions & he's glad that my condition had improved... He told me that I can slowly tailed off my medication from having it daily to alternate days then slowly to one week once... But still have to monitor my hives condition... He also mentioned that I can stop taking the morning pills & stick to the night one... I've already self-declared to stop taking the morning one long ago...

I've called Charmaine to ask her something & she asked if I want to meet her 2.30pm @ Forum to Ralph Lauren sales as she has a voucher that entitles a 40% off with any purchase (up to 10 pieces) & I've agreed as it's really a great catch... Wanted to bring little prince along but decided not to as he fell asleep after I fed him... Reached about 3+pm & went straight to look for Charmaine & Gwenda... Browsed thru' the whole boutique for some time & nothing caught my eyes... Charmaine got a few pieces that the designs quite nice but no more bigger sizes... But she was kind enough to 'loan' those few pieces to me as her son will only be out next May '08... =) I bought a exactly same design as what Charmaine got but in a bigger size & different colour... The usual was $67, after 40% discount, it's $40.20... Quite worth it right?
Little prince's new romper

The romper that Charmaine's 'loan' me (cuz no bigger sizes)

The 2 piece set that Charmaine 'loan' me (cuz no more bigger sizes again)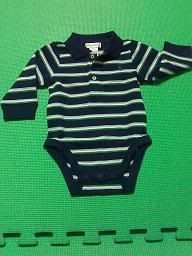 Went for a short drink with Charmaine & Gwenda before heading Toys "R" Us to get X'mas pressies for 6 kids... I spent quite a long time choosing the gifts & stick within the budget that we've agreed... I think I spent almost close to an hour to hour & a half there... I've finally decided on those gifts & I also got a pressie for little prince too... I'm gonna have a early X'mas celebration with some of my friends on Sunday... WOOHOO~
Little prince's 1st X'mas pressie from Mummy
Drove over to Plaza Singapura to meet up with Nadia + TianFu + Fay over @ Swensens & Cynthia + Brayden came shortly... We ordered some food while waiting for Stephiey to arrive... It's Fay's mini birthday celebration... Fay enjoyed herself & she's very cute when she dodged away from the candle smoke... Had a great time playing with Brayden too... He's damn adorable & he kept making the 'da da da' sound, which my little prince still can't do that... =( Waited quite a while for Stephiey to arrive as she's caught in a traffic jam... Cynthia + Brayden had to leave early & we took a few pics while waiting for her cab to arrive... Aiko & Joel came to join us and we went shopping after sending Cynthia + Brayden to the cab...
Me, Nadia + Tian Fu + Fay went off to Nadia's place for mahjong session while Stephiey, Aiko & Joel proceeded with their programs... My luck was not good & I lost about $25.... But I had a great time laughing over mahjong & Nadia's mum bought some food back for us as we're pretty famished... Played till about 3+am & then headed home with a satisfied stomach...
Thanks for the shopping companion @ Ralph Lauren. Charmaine, thanks for 'loaning' me your son's clothes. =P
To Nadia, Cynthia, Stephiey & Aiko:
Thanks for the companion @ Plaza Singapura. Had a great time with you dearies, even though it's a short evening! =)
Thanks for the mahjong session over @ your place. =)