Lunchie with Charmaine & Catherine @ Sakae Sushi, Funan the IT mall @ 12.30pm... Initially wanted to drive down, but took a cab instead as 老公 need to use the car... Didn't bring little prince along with me as I'm going for a hair trim & also shopping with Cynthia + Eddie later in town...

Reached there around 12.40pm & bumped into Charmaine @ the Sakae entrance... The waiter showed us the way to our table & Charmaine almost immediately took one dish from the belt... They have couple of new varieties & it's simply YUMMYLICIOUS... Catherine arrived a while later & we ordered more sushi... I didn't know now the Hana maki from 4 makis reduced to 3 & the price from $6.50++ per red plate to $4.90++... Our total bill was $40+++ & that waiter missed out one plate, so one plate less from our bill... LOL...



We had a great time munching & gossiping & I really feel like going thru's the pregnancy journey once again... Seeing the both of them pregnant with their 2nd child, I really can't wait for my turn... But I still have to wait till next year before I can have my #2... We had lunch for nearly one & a half hour & we decided to leave... Went over to Delifrance as Charmaine & Catherine wanted to get some snacks before they go back to work... We saw Michelle Chia, Yao Yi Shan @ delifrance... Michelle Chia is really a PRETTY BABE! She's tall & slim, I really wish I can be like that her, so tall & slim... Took a cab down to Wisma with Charmaine...

I decided to have a hair trim while waiting for Cynthia + Eddie to arrive... I couldn't find any hair salon @ Wisma & went over to Taka... Initially wanted to walk over to Far East Plaza to get my hair trimmed, but I'm afraid that Cynthia + Eddie will reached anytime soon, so I just settled for Reds... Kinda regret with my deicison as the charges there are like DAMN EX lor... Imagine I'm paying $48++ for that kinda of length trimmed (barely only 2 inch being trimmed off & abit of side fringe), it's SUPER DUPER not worth lor... I will NEVER go back there for another hair trimmed... DUH~

By the time that I'm done with that expensive hair trimming, Cynthia + Eddie still not here yet... So I went to the Taka Toys Fair to look @ the toys as I'm thinking of getting some for little prince... There's a Sesame Street X'mas stageplay (or whatever you people called it) & I was just in time to catch it while waiting for them... It's my 1st time seeing my all-time favorite character, Elmo is real life... Elmo's really cute! Managed to take some pics & even a short video of the play...

Went over to Wisma to meet them over @ Topshop... Then Cynthia's shopping spree began...We 'comb' nearly 1/2 the shops in Wisma before headed down to Cineleisure for dinner... I bought another 3 pairs of falsies from DoDo... Thereafter, went Bugis Village as Eddie wanted to look @ bags & we shopped around the premises... Then, I bought another 3 pairs of falsies again... YES! I'm a falsies lover! I want to get MORE!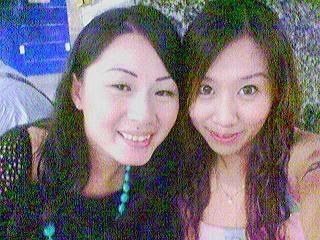 Took this when waiting for train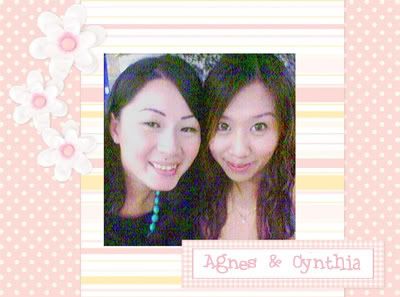 Cynthia edited it... NICE!
* THANKS CYN DEARIE *


We had drinks @ Mos Burger before we decided to go over to Nadia's place for mahjong session... Wanted to take a cab back to my place to get the car, but looking @ the queue @ the taxi stand, I suggested to take train back as it would be faster than waiting for cab... By the time we reached Nadia's place, it's already 12am... I didn't play mahjong, but I still enjoyed myself to the fullest!!!


I've calculated that I had 14 different designs of falsies ranging from natural to volumes one... I'm still waiting for the falsies from Cynthia & LJ's spree to arrive to my doorstep... When will it ARRIVE???




To Charmaine & Catherine:

Thanks for the lunchie companion! Enjoyed myself!


To my ladies:

Thanks for the night of mahjong, even though I didn't play... I fully ENJOYED myself!