To My DEAREST MUMMY!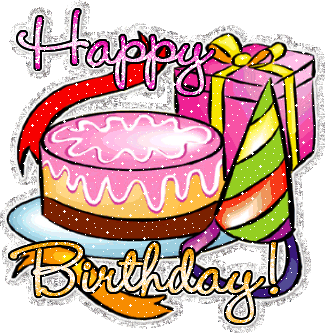 Today went out with Cynthia & Shirley + Jovan to Takashimaya as I wanted to check out the prices of Coach bags & see if it fits my budget... Shirley was on leave today... Our initial meeting time was 3.30pm, then by 3pm the 3 of us still home msning each other & we're still in the midst of preparing... So we adjourned to 4.30pm, at least we have ample time to get prepared... The final time of meeting was adjourned to 5.30pm cuz Shirley got to attend to something... 老公 sent me to Aljunied Mrt station & I took a train down all by myself, without little prince with me... So I self-declared an 'OFF-DAY' today as 老公 brought little prince to IL's office...

Reached Orchard @ 5.15pm & walked straight to Taka as the 2 of them still on their way to town... My 1st stop was Coach @ level 1... Saw a few of designs of tote bags that I like but the price was over my budget of $400... Only Coach Signature Stripe bag was within my budget range, others that I liked were at least $500 & above...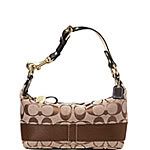 Coach Signature Stripe


These are the ones that I really like & want to get either one (provided 妈咪's agreeable with that amount)... All these are $500 onwards... Keeping my fingers crossed that 妈咪's ok with the pricing when we go shopping this coming Sunday...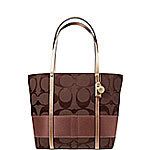 Coach Signature Stripe Tote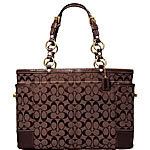 Coach Gallery Signature Large Tote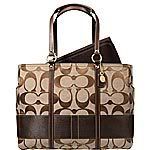 Coach Signature Stripe Multifunction Tote

After that, went to do a fund transfer to an organiser in LJ online spree of falsies then proceeded to McDonald's to have my super late brunch while waiting for the 2 dearies to come... They reached shortly when I'm in the midst of enjoying my brunch... As Cynthia wanted to get an organizer, we went up to Sanrio dept @ Level 3 to see if there's any... But sad to say, that design no longer available... Then we went to Wisma Atria as we wanted to get something from SaSa but I ended up with nothing... We took a slow walk to Far East Plaza & we bumped into Joel & Aiko & went for eyebrows trimming with Aiko as Cynthia & me wanted to trim ours... It was pretty cheap though, only $8... Heard from Aiko lots of SIA stewardess went there for their facial & stuffs... But I forgot the name of the shop, I only know it starts with 'Fe.......' located @ level 4...

Stephiey was supposed to meet us & she even asked us to wait for her after her work during our msn conversation in the afternoon... In the end, she rather went pubbing with her hubby... DUHZ~ The 3 of us went walking around before we slacked @ KFC... Wanted to get a pair of dollies falsies from i inuovi but it cost $14... And since I'd ordered thru LJ spree & Shirley asked me to wait for it to arrive, so ended up not getting it... But I still want to get more falsies!!!!!!!! LOL!!!! Then we bumped into Zen + Julia... Had a short talk with them & the 3 of us went Hyatt Hotel to wait for Shirley's daddy to pick them up before I went & met Charmaine + Sam for supper... We didn't really took lots of pics today...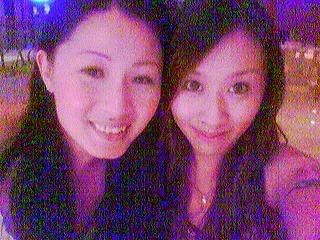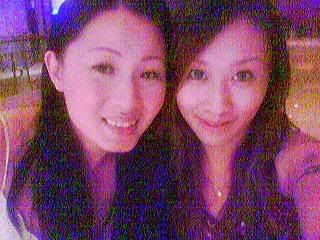 Me & Cynthia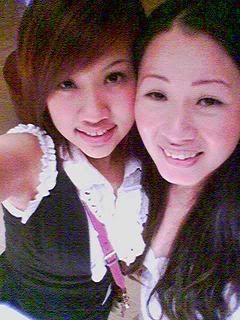 Me & Shirley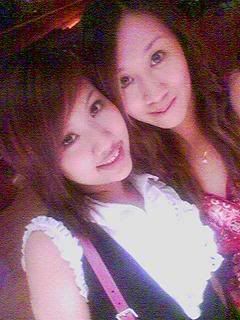 Shirley & Cynthia
Took a train to Tiong Bahru to wait for Charmaine + Sam to pick me up... We were deciding whether to have prata or 茶餐室, then we got Sam to decide what we gonna have & we went Happy Valley Hong Kong Cafe 快活谷香港茶餐室 to have supper... We ordered some drinks & also some food to eat... A while later after our orders, the waitress came over & told us that the food that we ordered can't be served as there's a blackout in that restuarant earlier on... We were like... *full of question marks in our minds* Anyway, we told that waitress if the waiting time wasn't that long, then we don't mind waiting as it's also pouring outside... In less than 5 minutes time, the other waitress said the power supply was back (think for the kitchen & also their microwaves ba) so they proceeded with our orders...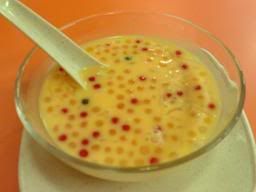 Sam's 杨枝甘露




Charmaine's 红毛榴莲(soursop) drink + sandwich & my 新鲜酸柑(lime juice)




Charmaine's 三文鱼三文治 smoke salmon fish sandwich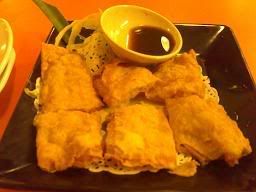 鲜虾腐皮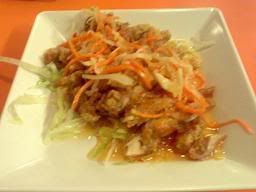 泰式鸡丝沙律 Thai chicken salad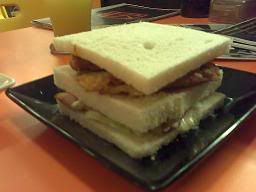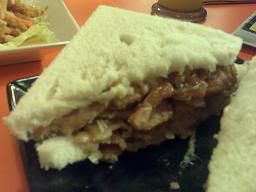 My 快活谷沉宝盒 Happy Valley box sandwich

The food there isn't that fantastic & Charmaine kinda regret of her orders & would rather have prata... Abyway, I know those HK cafes in the east side still the best & I will not be going there for a 2nd time... Sam sent me back home & we nearly met with an minor accident @ a giveway... It involved an lady driver... That lady driver should drove off from the 'STOP' line of the giveway when the main road was clear of traffic but she didn't... It happened too fast & Sam managed to stepped on the brakes on time... Then that driver stopped along the road & she somehow signalled us to stop too... So Sam went down to clarify with that lady & she claimed that she felt a bump @ the back of her car... She claimed that Sam did bump onto her car as there's a scratch @ her car's rear bumper... The 3 of us didn't even felt any bump @ all... That driver's friend even took a digicam out to take a photo of it as an evidence & Sam's explaining to her that there's no way a Stream could have done that damage, given that Stream's front bumper's height doesn't reconcile with her sedan rear bumper... Can see that the lady was kinda aggressive in her words (judged by her hand signs & her voice - Charmaine & me were in the car)... Sam handled the situation quite well & the lady drove off after Sam's apology as that scratch was clearly already there even before this accident occurred... So even if she decided to claim from Sam's insurance, I don't think it will be valid... Then we're also on the way back to my place...

Some random pics of my little prince!
Introducing my Little Red Riding Prince!


My Little Red Riding Prince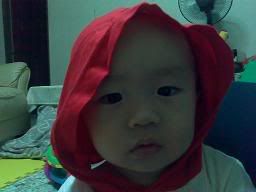 My blur little prince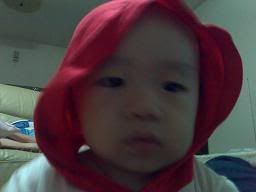 Isn't him a CUTIE???


To Cynthia & Shirley dearies:

Thanks for day of shopping & nice catch up! Totally enjoyed to the MAX!


To Charmaine + Sam:

Thanks for the ride home & I forgot to pay you guys back the supper $$$$...


To Catherine + Charmaine:

Sorry ar! I remembered wrongly that my 妈咪's birthday is actually today & not Sunday... LOL! But Sunday I'm going shopping with my 妈咪 & little prince...=P Meet up soon ok?? WHEN'S OUR BBQ & M'SIA TRIP & BANGKOK TRIP???