Today met up with my ladies... Woke up @ 12.30pm as I'm meeting them @ 2pm @ People's Park OG... Was thinking whether to bring little prince along cuz most of them not bringing... Still brought little prince out as 1. I super duper long never bring him out shopping & 2. 老公 had been nagging & questioned me on what time I came back this morning... He even started to 埋怨 that I these 2 weekends I kept going out during the night * Sorry 老公! 对不起! =( *
老公 sent us to Boon Keng MRT station & took a train down to Chinatown station... Little prince behaving quite well & didn't make any fuss as it's his napping time... Went to Kanebo counter to meet Nadia, Jacqueline + Jabez & Yawen... Went up to the ladies department as Nadia needs to get something from there... Shirley, Cynthia + Eddie arrived shortly & I didn't realised that little prince's diaper was kinda overflow & stained his pram... Shirley was the one who told me & I proceeded to the baby changing room located @ level 5... Luckily I brought a set of clothes for little prince, if not I have to spend $$ again on his clothes...
Headed to Swensens as most of us haven't had our meals... Was very disappointed with their services & the food... We had to wait for more than 15 mins before we got a table that can accomadate 7 adults & 2 kids... And we even had to ask them to serve us iced water, oh my! I had Salmon & mushroom pasta while the rest had chicken baked rice & fish baked rice... The pasta that I had totally NO TASTE! It's sooooooooooo bland that I didn't even want to finish it even though I'm real hungry... Jabez was enjoying the salmon that i gave him & he kept wanting for more... lol... The rest also commented that the baked rice totally a letdown... We still preferred the outlet @ former Crown Prince Hotel... That outlet's serivces & food was really THUMBSUP!!!!! All of us had ice-cream for desserts as it's 1-for-1 on any sundaes... Took a few pics before heading to Nadia's house to slack & also mahjong session...
Little prince had a great time over @ Nadia's place & we started to play mahjong while waiting for 老公 to pick us up... Wanted to play till Stephiey come but 老公's already here around 10+pm & little prince was very cranky... Anyway, I won $2.20 after playing till 1st or 2nd round of 南风 & Eddie took over while waiting for Stephiey to continue the game...
Sorry that I couldn't stay thru'out & my little prince being too cranky! Thanks for the ENJOYABLE day!!
Me, Nadia, Shirley & Cynthia
Nadia & Me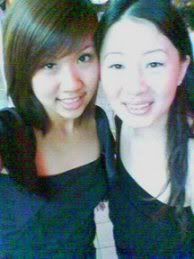 Shirley & Me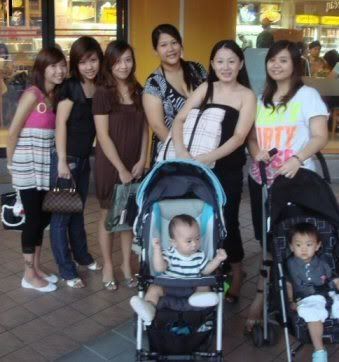 Nadia, Shirley, Cynthia, Yawen, Me & Jacqueline
Jabez trying to hug little prince & a closed up...