Met up with my ladies aka dearies @ Settlers, Boat Quay for dinner & also a mini celebration of Jacqueline's belated birthday... Met XiaoXue, Stephiey + Alvin @ Central Mall then walked to Settlers as Josephine & Julia were already there...
Well, it's my 1st time to Settlers Cafe & we had few rounds of games before dinner... The waiting time of the food was super duper long, even Josephine & Julia who placed their orders early before we arrived also not served yet... So waiting time = 1/10, very very bad... Nevertheless, here's the list of ladies/dearies attended:
1. Jacqueline (the birthday girl)
2. Josephine
3. Julia
4. XiaoXue (supposed to be a surprise guest)
5. Stephiey + Alvin
6. Karine
7. Aiko
8. AJ, that's me =P
Cynthia supposed to come but clouldn't due to some reasons... Jacqueline, XiaoXue, Josephine & me had Black Pepper Steaks & Julia had Cajun Chicken Chop... The food was only so-so, I still preferred Cafe Cartel & Swensens... Jacqueline was kinda disappointed with her plate of steak as it's most of it was FATS... And Julia was also disappointed in her plate of Cajun Chicken Chop... The drinks that's freeflow was only blueberry tea (or something similar) & sprite... And their sprite was damn disappointing... There's no soda in it & tasted like syrup... Aiko came to look for us after our dinner...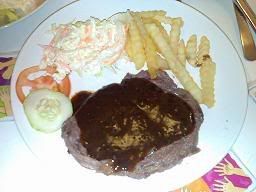 Our initial plan was to stay till 11pm @ Settlers, but as their 'Ladies Night' promo was only till 10pm (including freeflow of drinks) & there's an additional charge of $15 per table if want to extend till 11pm... So after much deliberation with my ladies, we decided to go to one of the pubs in Boat Quay to cut the birthday cake... We went to Stephiey + Alvin's friend's pub, SheBangs (ex Chambers 82 or Chambers something) & they ordered a Tower (or barrel) of beer & we took lotsa photos... After everyone settled down, we sang a birthday song for Jacqueline & proceeded with the cake cutting by her... We had lotsa fun & the birthday cake was super duper yummy! * Thanks XiaoXue for getting the yummy birthday cake *
The birthday girl, Stephiey, Julia & Karine had their round of singing & Josephine, Karine, XiaoXue & Julia left shortly... Only left Stephiey, Jacqueline, Me, Aiko & Joel... After Stephiey & Joel finished that tower of beer, Jacqueline's hubby came & picked Jacqueline home... Stephiey, Me, Aiko & Joel went over to a pub called Blue something for a short while as Aiko & Joel's friends were there for a mini farewell party... Stephiey, Aiko & me stayed for a short while before heading home... Stephiey + Alvin & me walked back to Central Mall to collect our cars respectively & I was kinda surprised that the parking was super cheap... It only cost me $2.68 for parking almost 5 hours...
To My Ladies aka Dearies:
Thanks for the enjoyable night! Really enjoy each of your company! More of these gatherings & pubbing PLEASE!!
*Too bad, Nadia, Cynthia & Shirley couldn't join us! Nevermind, still got more to come on the way!
Cheers (",)