Today I finally get my butt moved & started my 1st cooking for little prince... It's really my 1st attempt in cooking porridge... Overall, I'm quite satisfied...
Ingredients of the porridge:
1. Corn (add as flavouring)
2. Lean meat (add as flavouring)
3. Broccoli
4. Fish (forgot what fish liao)
TA DA~ my 1st 作品 (abit not presentable la, I know... =P)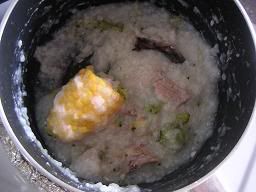 Little prince seemed to love the porridge very much... Kept screaming for more if I fed him too slow... It's quite a big bowl when I fed him & the below pic was what's remaining...

but little prince still managed to finished the remaining porridge... Hmm... 他的胃口真大... will try to cook porridge again with different kind of ingredients...
WOOHOO~~ Tomorrow meeting my ladies for dinner! Can't wait to see my ladies!