Happy 5th Birthday to Skye!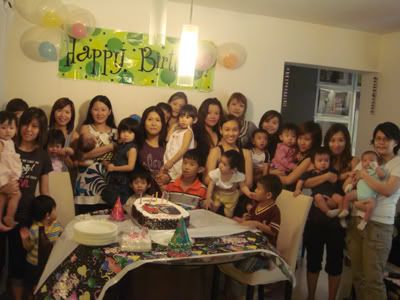 Met Shirley + Jovan & Ralia + Jexus @ Taka before heading to Skye's birthday... We initially meeting @ 3pm, but all of us were late... Luckily I didn't took a cab down t town, cuz when I reached Taka, none of them reached & still home... Jacqueline supposed to meet us but changed her mind later... So while waiting for Shirley & Ralia to arrive, me & little prince went Taka walk around & standing in one area playing my DS Lite while waiting for them...

Shirley wanted to drop by LV as she wanted to send her bag for servicing, but upon seeing the long queue, decided not too & we just walked around Taka before heading to Cine to have some munch... After we fed our little ones, we walked all the way down to Dobby Ghaut to take train to SengKang to meet Cynthia + Brayden... We bumped into Nadia + Fay, Nicole & Jacqueline + Jabez when @ Xiaoxue's block life lobby... Waited for Stephiey + Alvin + Zenden before all of us went up to Xiaoxue's house... Qiqi mama + Lercade were already there when we reached...

The attendees as follows:

1. Stephiey + Alvin + Zenden
2. Shirley + Jovan
3. Cynthia + Eddie + Brayden
4. Nadia + Fay
5. Nicole
6. Ralia + Jexus
7. Jacq + Jabez
8. Aiko + friend
9. Elise + dh + Kayven + Kayzel
10. Michelle + Lorelle + Efren
11. Qiqimama + Lecarde

and a few more that I don't know...

We stayed till after cutting cake & decided to leave as it's kind of hot & warm, think too many people & not a windy night... Stephiey + Alvin sent me & Jacqueline home... * Thanks Stephiey & Alvin for the ride home *

Was supposed to go clubbing with Shirley, Cynthia + Eddie and Stephiey + Alvin but ended cancelled due to some reasons... Nevermind, will have plenty of chances to go clubbing with them...

Pics will be uploaded shortly once Cynthia & Xiaoxue upload the pics...
Oh ya, I finally tried on the fake lashes today & also the Charming Cat mascara... The feedback from my mummy friends are great! And also as the review on the Biore Cleansing Oil... It's 10/10 for the results of removing waterproof mascaras & also makeup totally without any mess... And I didn't feel oily after using it... So Biore Cleansing Oil is GOOD!!! So I will recommend this brand for removing makeup & mascaras!