Yesterday received an sms from Eunice that she'd delivered Regan @ 3.40pm! That's pretty fast lor... She was admitted @ 9am on yesterday morning & Regan popped 6+ hours... Anyway, rest well my friend!
Today met Charmaine + Sam + Adel and Catherine to visit Eunice @ TMC... Took a train down to Orchard with little prince (without his pram) as 老公 need to use the car to meet Charmaine after her work... Reached her office @ 5.40pm & off we went to pick Sam, Catherine & Adel up... It started to rained heavily while on the way to Tanjong Pagar & luckily the rain stopped when we reached TMC...
Eunice still looked good & little Regan was soooooooooooooooooooooo cute... Look like his daddy more... Eunice shared her labour story & we stayed there till like about close to 9pm then we left... I really missed carrying an infant...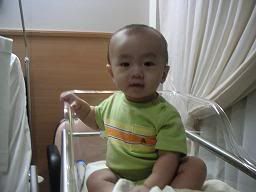 Little prince sitting in Regan's cot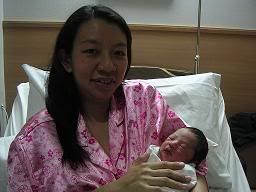 Eunice & her little prince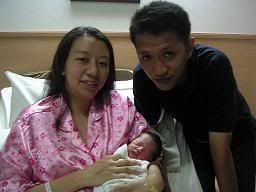 The Koo Family (except princess Reiko not in the pic)
We went Geylang to have 田鸡粥, all thanks to Eunice! Cuz she suggested that when we're deciding of what to eat... But thanks to her, cuz I really very very long never had 田鸡粥 since my pregnancy period till now... It's quite nice & their promo was 3只送2只... Charmaine suggested to order another side dish & ordered a plate of minced pork with 豆腐... Little prince had his 1st taste of 粥 (cuz I haven't start him on that yet)... He only had a few mouths of the 粥...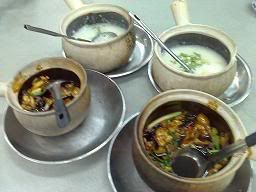 the minced pork with 豆腐


Sam paid for the dinner... Catherine & me wanted to pay him back but was being rejected by him... Sam gave me & Catherine a lift home as it's getting late... *

Thanks Charmaine + Sam for the lift

*