Met Nadia @ Bugis for some window shopping & she also wanted to change a dress she bought from Bugis Village... Supposed to meet @ 1.15pm, but due to the heavy rain we postponed it till 2.30pm... While in the queue to the carpark (cuz the carpark's full), little prince pooed... While I carried him out from his car seat, I realised his poo somehow stained his pants... So no choice, had to ask Nadia to meet me @ the Nursing Room while I go Baby Fox to get a pants for him (cuz I didn't bring a set of clothes out)... Was looking @ pants when I came acrossed a demin jumper... I was deciding on to get 6-12 months or 12-18 months (cuz my dear little prince was quite a big size baby), that nice SA asked me to bring it to the Nursing Room & let little prince try... Anyway, I got the 6-12 months as the cutting kinda big...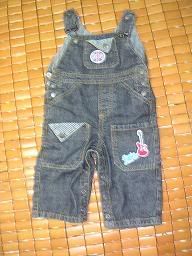 After that, went Four Leaves to get bread for Fay & fed little prince before heading to Bugis Village... After Nadia's done with her things, went to meet Shirley @ Burger King... Went to Mos Burger as Shirley wanna have her meal & took some pics before going back to Mummy's place...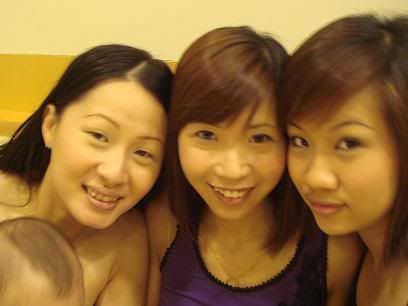 Me, little prince & Nadia
Don't know what's wrong with little prince... The moment we reached Mummy's place when Daddy opened the door for me, little prince cried when Daddy wanna carry him... Then the same again when in the house... Think he started to recognise people as he only sees my parents once a week... Only after a while (after he warmed up), then he's ok... Duhz~
Went Century Square to have dinner & Mummy bought 1 set of clothes & 1 water bottle for little prince from Kiddy Palace...
The Dino set from Granny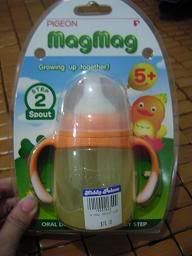 Pigeon water bottle
Then went over to Tampines Mall as I wanted to get a new home for my DS Lite... Was in a dilemma on which colour to get & Mummy suggest Pink (as my DS Lite is in pink) & she bought it for me... * THANKS MUMMY! *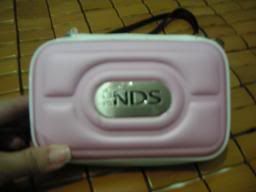 My DS Lite new home
Luckily little prince didn't start his crying thingy on the way back cuz he already slumbered to his dreamland... *Phew*