Happy Birthday Cindy!!!
Today went Taka to meet Cindy for coffee & catching up & also a mini celebration for her... But before meeting Cindy, went over Dobby Ghaut to meet Eddie regarding my investment... When I alighted @ Dobby Ghaut, it's pretty very crowded & mostly I saw was elderly... Hmm, wondering what's going on over @ Dobby Ghaut or any fairs being held there...
Anyway, proceeded with my plans to meet Cindy & we went Coach to have a look @ their bags as she thought of getting a sling bag for her mum... After that, we decided to go for Coffee Club for a drink as both of us were super thirsty maybe cuz of the damn hot weather... As both of us had our lunchie earlier, we only ordered finger food so that little prince can also have his share... These few days I've been giving little prince dory fish or potato wedges & he seemed to LOVE it alot... 他很贪吃咯... kept waiting more & more... 哈哈... I also gave him tiny bit of cold water, really very very tiny bit just for him to taste & 他很喜欢, 一直对我笑...
Potato Wedges - Little prince's 最爱
Little prince with Cindy's fingers
他超可爱咯!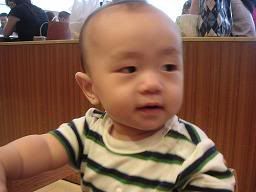 The birthday babe!
Cindy & little prince
After catching up session, we went to the nursing room @ Taka to feed little prince & then window-shopped around before going home sweet home...
WooHoooooooo!!!!!!!!!!!!!!!!!!!!
FINALLY!!!!!!!!!
NUFFNANG adding ads in my blog!!!!!!!!!
I'm sooooooooooooooooooooooooooo HAPPY lor... Was checking my emails & I saw an notification from Nuffnang saying that An advertiser has chosen to advertise in my blog!!! I've waited for sooooooooooooooooooooo long till my neck gonna break!!! Check out the ads that will be running in my blog from Nuffnang!!