Today met up with Peggy + Kenneth... It's been quite a while since I last met up with her... 老公 sent me to MRT as I'm already late & took train to Vivo City... Went to collect my free Golden Village membercard & had our late lunchie @ Carl's Junior as we didn't know what to eat... Wanted to feed little prince his milk milk & I realised I FORGOT to bring his bottle out again... YES! Again... I'm just a blur 妈咪! So no choice, have to use the water bottle that Mummy got for little prince to feed him... I decided to get a new set of Avent bottles so that the next feeding can use that to feed little prince... When on the way to Giant, went to Guardian as I wanted to get the Biore Cleansing Oil as what Silver recommended in her blog... It's said to be very good in removing even waterproof mascaras... So I decided to get one myself to see the effect as I wanna try out the fake lashes as well as my Charming Cat waterproof mascaras... They also have it in cotton pad too... The bottle cost $13.15 & that cotton pad cost $14.90... Hope it really works wonder!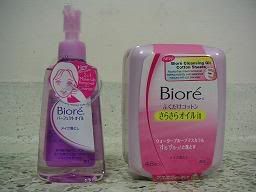 Decided not to get the milk bottles as it's a waste of money... I can feed him using the water bottle anyway... After that, went to Toys 'R' Us as Peggy wanted to get some toys for Kenneth & I also wanted to add more toys to little prince's collection... I've decided to get Playskool's Form Fitter for little prince & I also thought of getting a car for little prince cuz it's only $29++... But decided to get the form fitter 1st as it'd be kinda troublesome to carry that car around as it's abit bulky... Think will go over to Tampines outlet to get that car one of these days... Took some pics of Kenneth playing with the devil's thingy (forgot what's that called)...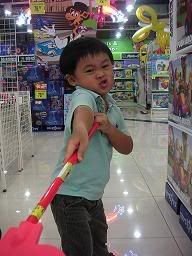 "Don't play play!"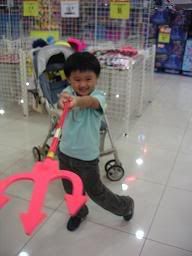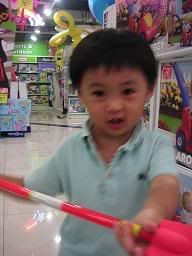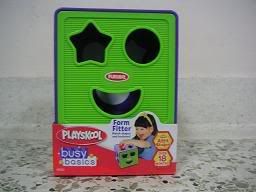 Playskool Form Fitter - $11.90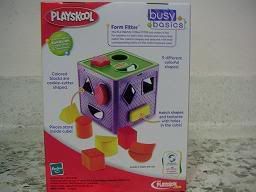 Went White Dog Cafe as Kenneth wanted to eat spaghetti... Peggy & I had only drinks as we're still very very full after that Carl's Junior lunchie... Little prince today not being co-operative... Kept being cranky & had to carry him... My both hands damn 酸 lor... Imagine carry a packet of almost 10kg of rice walked quite a distance lor... Fed him milk again but never finished it lor... Wasted the milk powder... duhz~
Kenneth promoting for White Dog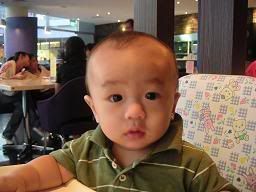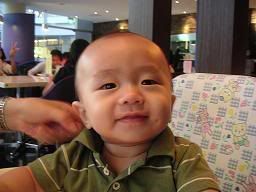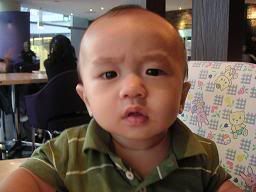 Bought myself a dress from Red 2 for $37... Peggy said the dress looked like those retro time... Quite like it... *HAPPY ME*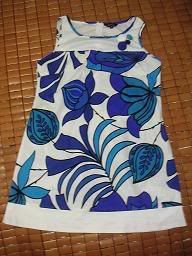 We also bought Dippin Donuts to try out... Took a train back & 老公 picked me up from Tanah Merah MRT back home...
It's my 1st time to try out the donuts, but the results not that fantastic though... Even 老公 tried also said so-so only... So, I think no more donuts for me... =)