Went over to my 大姨's place to attend my niece's 1st birthday... 妈咪 & 爹地 came over to my place 1st & we took a cab over... It wasn't a major birthday celebration, it's mainly for our own relatives...

Little prince totally enjoyed himself & slumbered to his dreamland while I finally can have peace... Chatted with my aunties as I super duper long never chat with them... I still remembered how they dote on me when I was young... They always brought me & another cousin out to shopping trips & cruise... As I grew older, I seldom had the chance to go out with them... Think it's my little prince that brought me closer to my aunties again...

Didn't took any pics as little prince was sleeping most of the time & only managed to snap a shot of him when on the way to my 大姨's place...

After that, went back to 妈咪's place to rest... Supposed to meet my mummies/khakis for 麻辣火锅, but didn't go cuz I thought 妈咪 & 爹地 wanna go out after the celebration... Should have join them for dinner...
Anyway, I've tried out the volume fake lashes & I loved them to the max... I still have 4 sets of volume lashes with Cynthia... Can't wait to get it from her... Pics of me with the volume lashes...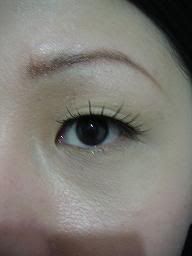 top view
I simply LOVING IT!! (quoted by Stephiey)