Just came back not long... Met up with Charmaine + Adel, Sally & Lois for a steamboat session @ 重庆火锅 along Beach Road... Supposed to have a few more members of Idobaby to join us, but they didn't turn up... It was super duper crowded with people & we proceeded to the Level 2... We're being allocated to a table @ one corner & the service or rather the attitude of that service staff there SUCKS!Shall not elaborate further... It really sucks & I'm pretty pissed off with her attitude...

Charmaine took lotsa of food & we started with the steamboat... We had 中麻辣 & 排骨 soup base... I think I ate the most today... Most of the times I don't eat that much, especially for steamboat & buffet... Think maybe it's my 1st meal of the day... Sally, Lois & me had the 中麻辣 & Charmaine had the 排骨 soup base... Sally, Lois & me had our 2nd round of drinks... Due to the soup base?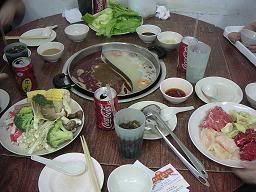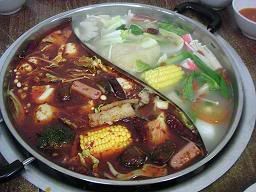 It was already close to 10pm after we're done with our dinner... Charmaine suggested that we walked over to TCC @ Bugis to continue our chit chat session... It was full house when we're @ TCC, we waited awhile before a waitress brought us to an empty table outside... It was pretty warm as there's no fans @ the area where we're seating & I requested the waitress to move us into the air-conditioned place... That waitress was kind enough to get us a table inside... We ordered drinks & Adel had brownie with vanilla ice-cream, but ended up me ate up quite abit... *greedy & hungry me*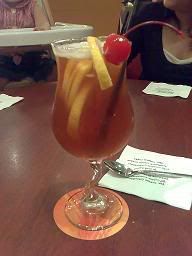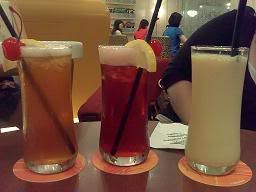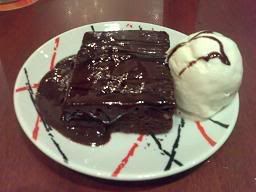 Adel's brownie with vanilla ice-cream
Sally left early as her hubby was around the area to pick her up & the rest of us stayed there... Sam (Charmaine's hubby) came over to look for us & we 3 ladies chatted till the closing time then finally decided to move our butt & go home... Adel had her fair share of fun & she loved to put the tissues on one chair to another... Adel was kinda 'hostile' when one of the TCC staffs wanted to play with her, maybe she's a bit shy... Think this was my 1st time that really sit down & chat with Sally & Lois... I enjoyed myself pretty much... The parking was pretty cheap & only cost me $2.14 for 5 hours...

To Charmaine, Sally & Lois:
Thanks for the company! I enjoyed myself totally! (",)
Meeting my ladies tomorrow afternoon, then followed by MJ session @ Nadia's place... Yuppie!