Happy birthday in advance, Cynthia!
My 'hives' misses me SOOOOOOOOOOOOOOOOOOOOOOOOOOOO MUCH that it came back in the morning 5+am!!!!!!!! Both my legs itch like HELL & I couldn't sleep because of that... The 'hives' only came looking for me 2 months after I gave birth to my little prince... Then after that, I frequently got hives...

The itch kept me up till morning & it got worse around 8am... My mil asked me to go back to CGH to see the doctor that I saw in May... So chat with my ladies on msn while I making an appointment with CGH... Called around 9+am & they actually scheduled me for a next Tuesday appointment... But I couldn't stand that itch anymore & I told them that I had no medicine to cure it & I need to see a doctor NOW!!! That receptionist was sooooooooooooo kind enough to squeeze in a slot for me @ 11am today... Thank GOD! Cuz I think I can't survived till next Tuesday with the stupid itch!!!! The waiting time was pretty fast... Reached there @ 10.45am & the doctor was ready to see me @ 11.02am... The doctor commented that my case was chronic hives as it's too frequent that I got it... She even commented that I should do a blood & urine tests to make sure my internal organs doesn't get affected... But She did mentioned that it's unlikely forthat to happen, just 以防万一... The waiting time for payment & collection of medicine was kinda long but still acceptable for me...

Information on hives:
http://www.alabamaallergy.com/diseases/hives.asp
Anyway, I finally received my loot from TW Choco bags spree that was organised in LiveJournal... YES! After long anticipation of my spree... My loot actually arrived yesterday via registered mail, but since there's no one @ home to receive it & thus I got to collect it from the Post office... Bought lunch back for 老公 & myself & I slumbered to my dreamland around 2+pm... I also bought a few home wear tees for little prince...


Woke up @ 6+pm when Stephiey called me as we're supposed attend Cynthia's birthday chalet @ Downtown East... I was so reluctant to get up as that stupid medicine caused drowsiness... But NO CHOICE!!! It was Cynthia's advanced birthday celebration, so cannot disappoint her la... Got myself ready around 7+pm & left home @ 8+pm to meet up with XiaoXue, Stephiey, Aiko & Uncle (Joel) outside Subway... And we consolidated the ang pow before heading to the chalet... I had a great time laughing & chatting with my ladies & Joel & also enjoying the bbq food (cuz the birthday bbq for us to eat, hehe)... * Thanks Cynthia for the DELICIOUS & YUMMY food *
The attendees:

1. Stephiey
2. XiaoXue
3. Aiko + Joel
4. Karine + hubby
5. Josephine
6. Jacqueline
7. Shirley
8. Julia
9. Me

Jacqueline & Shirley came later... After the cake cutting session, Julia & Karine left 1st, followed by Aiko + Joel as they've got a movie to catch... Xiaoxue left later too... Cynthia, Jacqueline, Josephine & me proceeded to play one round of mahjong as we started only like 1am... Had a fun & great time laughing over the mahjong table with my ladies... I won only $2 as we're playing 20 - 40 cents & Jacqueline won $5... It's just a friendly game with my ladies... After the mahjong session, we went back to start bbq food as most of us didn't had much earlier... Then we continued our chit chat till like about 4+am close to 5am, then Shirley & I left, leaving Josephine & Cynthia behind... The parking was SUPER DUPER expensive & it cost me $9.61! OH MY!!!

To Cynthia:
Thanks for your warm invitation & also the food that you prepared for us!

To MY LADIES:
Thanks for the enjoyable night & I truly had a great time with you bunch of ladies! More to come pls!!!!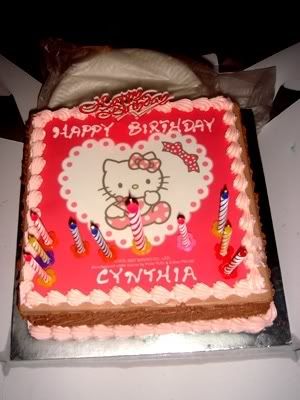 The Hello Kitty birthday cake!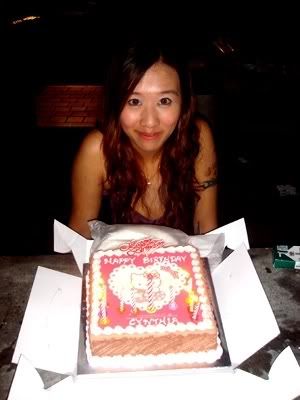 The Birthday Babe!
Cynthia & Karine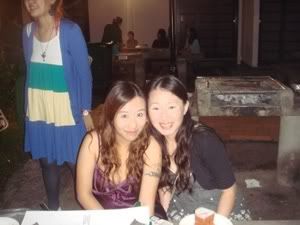 Cynthia & Me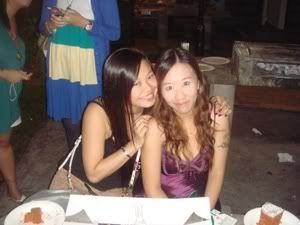 Josephine & Cynthia
My ladies group pic!


Stephiey & Cynthia
Me & Stephiey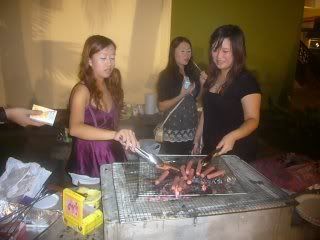 My Ladies in ACTION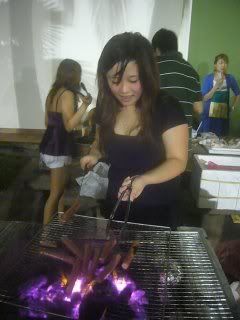 Our 'Chef' of the night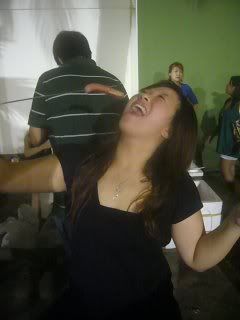 What a pose! (Stephiey gonna KILL ME)
Josephine, Stephiey & Cynthia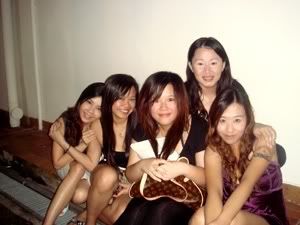 Karine, Josephine, Stephiey, Me & Cynthia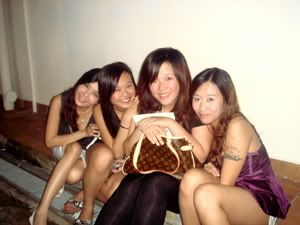 Karine, Josephine, Stephiey & Cynthia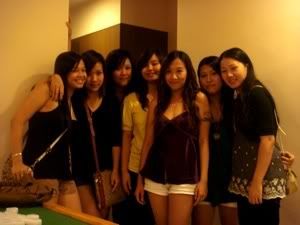 My ladies!!!!!!!