Congrats to my girlfriend with her new addition to her family!


Welcome to Motherhood, my friend! & Welcome your little baby!


Rest well!



Didn't went out these two days... Only went to ILs's office today with 老公 & little prince... Little prince was having a great time there exploring... I played my DS Lite while little prince busily entertaining himself with a new-found playground that 老公 created for him...

I played till my DS went dead on me... Watched abit of TV programmes before we sent 阿公's maid to City Plaza as she need to get a new lugguage bag... Eversince 阿公's death, his maid was so afraid to be alone & even requested my ILs to stay over @ 阿公's place... She even told my ILs that during 阿公's 头七, 阿公 really came back to the house & she even heard him calling her twice... And when she called out to him, there's no sound from him... She even experienced that on the day that 阿公 was being cremated... Supernatural? Hmm... No comments as I never experienced before...

Anyway, the maid will be going back to her hometown next Thursday on Deepavali... She loved little prince to the max... Kept wanting to carry him even though he's not making any noise... duhz~

After dropping the maid off @ City Plaza, 老公 & I were kinda frickle-minded on what to have for dinner... As we're driving along Katong area, we thought of having Boon Tong Kee chicken rice... But upon reaching there, decided not to as there's no parking lot & no waiting area... So I suggested to drive along Siglap Road to get KFC (so I can give little prince a bit of whipped potato), but we faced the same thing earlier on... We finally decided to try out a Western Food store that was newly opened in one the coffeeshops 1 carpark away from our home... I've ordered Fish & Chips & 老公 had Chicken Chop... It wasn't as fantastic as I expected it to be, cuz both cost $10.00... Their ribeye steak was priced @ $12.00... It was kinda expensive for a place in a normal coffeeshop...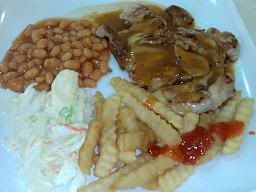 We had western food for these 2 days & my sore throat seems to worsen... I'm having dry cough now too... Hopefully I don't fall sick, if not, I have to quarantine myself from little prince as I doesn't want to pass him the sick virus...