Today went of my eyebrow embroidery @ Allure Beauty... My appointment's @ 1.30pm Tiong Bahru Plaza... Drove down instead of taking train... The beautician brought me to the dressing table & started to work on my eyebrows... It took a while for her to finalise a suitable brow shaped for me... I was actually very 紧张 about the embroidery, as I was wondering will it look natural? will it look nice on me? I even smsed my friends whether I should do the embroidery, cuz I'm kinda frickle-minded on it... But I still decided to go for it...

The whole duration was about 2.5 hours... It's a very weird feeling with many pairs of eyes looking @ me when that beautician do the shape... Even when she started working on my brows, there's a couple of the beauty students looking @ the process... She applied 麻醉药 on my brows for 20 mins before 她在我的眉毛上"开刀"... It was a painless process & only occassionally some stinging feeling when she reapplied the 麻醉药 for a 2nd round of 'operating' on my brows... I need to do a touch-up 2-3 weeks later as the dolour will fade as days go by... The colour now looked too dark & made my face looked more fierce than before... I only felt that my brows are not arched enough... Didn't took any pic 'before' but I did take a pic of 'after'... She even asked me to do eyeliner embroidery, but I didn't reply her as I'm afraid of pain... Should I do eyeliner embroidery too? Hmm....


The 'after' look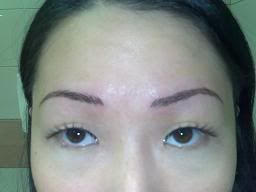 Does my left brow (meaning your right facing the PC) look weird @ the end?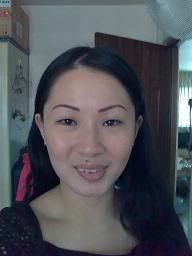 An overall of me



Anyone interested to do eyebrow embroidery? Allure Beauty are still looking for models to do FOC... Kindly tag me if you're interested...