I hate waking 老公 up, cuz it's like 'killing' him... I need to wake him up many times before he totally woke up... And I hate it most when I'm rushing for time... I meeting one organiser from LJ to collect our (Shirley, Josephine & me) loots... It's a oversized shades that cost only $6... Supposed to meet her @ 2pm, but ALL cuz of 老公, I had to meet her around 3.05pm... Initially wanted to take a train down with little prince, but I told 老公 straight to send me to Plaza Singapura as I'm really running late... Luckily I was there on time & collected the loots...

Took a train down to City Hall to meet little prince's Josephine godma & Jackson godpa @ Suntec... Was hesitating whether to take a cab or train... Ended up still decide to take a train as I wanna save money... Went window shopping with them once we met up & little prince kept wanting his godpa to carry him... Went to have some drinks & dessert while waiting for one of Josephine's colleague as we're going to a BBQ organised by her department (actually I'm only tagging along)... Jackson fed little prince 'some' ice-cream to taste & little prince loved it alot... Only managed to take one pic of little prince & his godpa...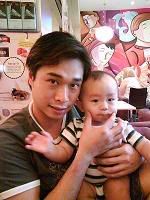 Little prince's 1st pic with Godpa
Once after her colleague arrived, we headed down to East Coast Park for the bbq... While @ the bbq, little prince was kinda throwing tantrums... He kept crying when people tried to play with him or when people talked too loud (meaning abot high pitch in tone)... Really cannot tahan him... Only when his godpa carried him, then he's back to normal... DUH! Anyway, met Charmaine + Sam + Adel & Catherine + WY + Janine for a meal @ the Geylang 油条大王... Catherine came & picked me and we proceeded with our plans while waiting for Charmaine to arrive... We had the famous 牛肉 horfun as I had nothing to eat @ 油条大王... Anyway, I had a great time with them & also great food both in the noon & night...
IT'S THE COMPANION THAT'S IMPORTANT!

Thanks for the day! Little prince really did enjoy himself! =)
To Charmaine & Catherine families:
Thanks for the night & yummy food! Meet more often ok? =P