Today went out with Jasmine + Jayde to town to continue to hunt for my working clothes... Picked them up from Bedok Mrt station & drove to Far East Plaza... Had our lunchie 1st as we're damn hungry before we start my shopping journey... We almost went in to all the shops in Far East Plaza in search of my working clothes & shoes... Finally found 2 that I liked & got it @ a cheap price... Jasmine intro me a shop called Sixties as their clothes quite cheap & suitable for working... Couldn't find any working pants & white heels... =(


From left to right: Pink blouse $28.70 after 20% (Charmed collection), Pink sleeveless $29.90 (Sixties)
Walked over to Taka as Jayde kept pestering that she wanna see Elmo... It's actually my fault la... I lied to her that will bring her see Elmo if she finished her lunchie... * Bad 姨姨 AJ * She also wanted to take pic in front of the 最大的圣诞树 @ Taka... So Jayde only got one of her wish fulfilled, that's taking pics with the 圣诞树 as we're already missed out the showtime for Elmo... But Jayde got to shake hands with Leap frog, so 没虾,鱼也好... Walked over to Wisma as I looking for tapered pants (don't know the correct spelling =P ) but in the end I bought 2 more tops from Pepperplus...


Then went GAP as Jasmine wanted to see any clothes up for grabs for Jayde... As usual, I always have a liking in GAP's rompers... I bought 2 rompers for little prince as 2nd item @ 50% off... Can stock up for little prince's CNY clothes... Wanted to buy more but I don't have enough cash with me... But will get more of little prince's clothes when I get my 1st pay... Bought a pair of socks from Osh Kosh from Taka...

Left town as I meeting 妈咪 & 爹地 for dinner... Went the The Civil Service Club for dinner as 妈咪 & 爹地 wanted to eat Curry Fish Head... There isn't much varities left, only few dishes of chicken... Little prince was behaving well during dinner... The dishes was pretty average, excep that it's on the saltish side...


妈咪 let little prince taste some lime juice & that's his expression after tasting... Actually I'm the one to start 1st... lol... must let little prince taste different food & drinks ma... I'm damn bad 妈咪hor... =P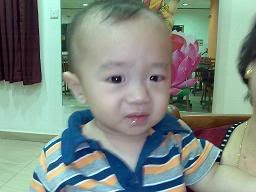 total damage today: $ 150.80
To Jasmine:
Thanks for the day shopping with me & also helping me to take care of my little prince while I hunt for my working clothes... Thanks BABE! Shall meet up again soon! =)