老公 sent me to MRT station as I'm pretty late for my appointment with Nadia for manicure & pedicure @ Tiong Bahru Plaza... Supposed to meet Nadia @ 3.15pm, but I'm still @ Tanah Merah station @ that time... Went straight to Nail Palace to look for her & also get my nails done... It's been super duper long that I last did my nails... Think the last time that I did mani & pedi was like 2 years ago... Walked around the premises & I dropped my phone accidentally & the paint kinda came off abit... 好心痛喔 as it's only less than 1 month old... =(
Left to meet Aiko @ Bugis... Went walking around while waiting for Stephiey & Cynthia to join us after their work... Accompanied Aiko to get her contact lenses & shopped for my office clothes... Saw a dress @ BYSI & I tried it on & LOVE it instantly... It's so office wear lor... Was thinking to get red or black, but still prefer black... Got that dress using $30 Capitaland voucher & paid $29 in cash... Stephiey arrived shortly followed by Cynthia + Eddie... Stephiey also bought a dress from BYSI & changed to that instantly... 真受不了她...

Crossed over to Bugis Village to continue my hunt for office wear, but nothing caught my eyes & after shopped there for awhile, headed to Fish & Co for dinner... Had a great time chatting with my dearies & cannot imagined that we stayed there till almost closing time... Cynthia + Eddie left 1st while Aiko & me went to get a cab home as it's pretty late & Stephiey's hubby came to pick her up... Initially wanted to get a cab @ the Hotel taxi stand, but it seemed like no cab driving in... So me & Aiko intended to get a cab along the roadside but still no cabs in sight... We resorted to on call for cab & went home sweet home seperately...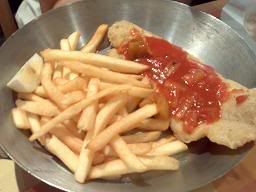 To Nadia:
Thanks for the day, although it's a short meetup! Join us in workforce soon! =)
To Aiko, Cynthia & Stephiey:
Thanks for the evening & dinner! Enjoyed myself with you dearies! =)