Today met Charmaine & Eunice for FHB lunchie... Catherine supposed to meet us but she couldn't make it... This time round I didn't had my usual order, cuz now I'm slowly introducing solid food to little prince... So I had sliced fish soup w/o rice or noodles, cuz this morning 老公bought me 爱心早餐... =)

Reached Bugis around 12.10pm & they were already there... Anyway, little prince was very very kaypo with his surroundings... There's 2 guys sitting next to our table chatting away, little prince kept looking @ both of them as if he understand what's their conversations about... 真是得受不了他... I fed him the white 豆腐 from the soup & the sliced fish... He seems to like it... He also like the KFC's whipped potato (w/o the gravy) that we fed him yesterday night... Kept showing me his contented face... =)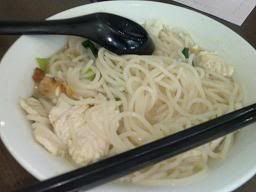 Charmaine's FHB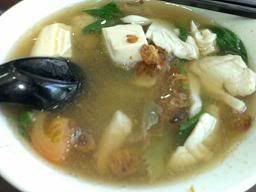 My FHB (soup only)
While we're eating, little prince eating this!


After we're done with our lunchie, Charmaine & I went over to Centrepoint as I need to get that romper that I'd reserved from GAP... I also got him 2 sets (2 pairs per set) of socks for $10.00 (UP $10.00 per set) as they're having a promotion of buy 2 sets of socks & get 50% off the purchase... It's worth it as it's only $2.50 per pair... 真得很值得! Damage @ GAP: $35.00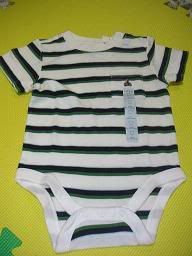 the romper I reserved
socks that cost $2.50 each


Went over to Charmaine's working place & I went shopping with little prince @ Istean as they're having 20% sales (that's what I heard from Charmaine) to check out any good grabs @ the Kids Department... Intended to get a new milk powder dispenser as the current one not very good... Was browsing the same section up & down & finally settled for a Combi Deep Feeding Bowl, a Cool teether toy and a Lock & Lock tupperware to replace the current milk powder dispenser... Damage @ Istean: $15.30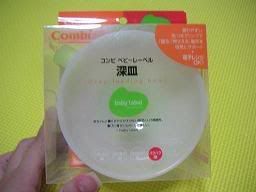 Combi Deep Feeding Bowl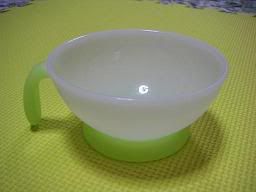 Isn't that deep after all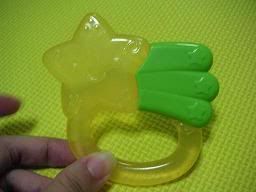 Little prince's new teether toy


Little prince was very 可爱咯... One hand I was carrying him & the other hand pushing the pram (cuz he's kinda sleepy so he gets cranky & cry while in the pram) & was getting McDonald's, I looked @ little prince & wanna see what he's doing... He was already dozing off (in upright position) & was abit like 'humpty dumpty' kind... That's the 1st time I saw him like that...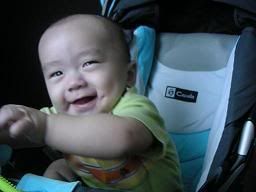 took this while waiting for Charmaine to off work

Waited for Charmaine to knock off as I doesn't want to be in the after office crowd & went over to her place to 提灯笼... Picked Adel up and bought a battery operated paper lantern for little prince on the way... Charmaine was hesitating of whether to get the same as little prince's for Adel... I told her just get it la... Anyway so cheap, only selling @ $3.50... And she got one for Adel, despite that she just bought some for Adel the day before...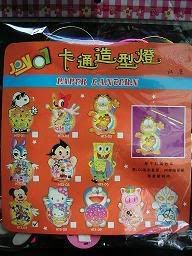 The batt operated paper lantern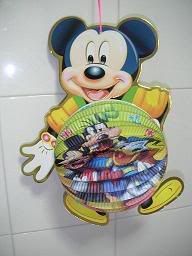 how it looks like

After dinner @ her place, we went down to the playground to 提灯笼... But Adel instead of 提灯笼, she's more interested in the slide @ the playground... Adel had lotsa fun & we took quite a bit of pics... We even took some pics of Adel kissing little prince on his cheek & took a video clip of me playing with little prince... not really play la, it's more like teasing him la... Although it's only us for the 提灯笼 session, we still had a great time...
Enjoy the clip & slide =)
(must turn on the volume of your PC to the max then can hear his giggles)
totally LOVE this pic!
*see little prince contented face! haha...*


Will load the pics when I can....

Don't know what's the F**K with 'Bloggers'... I CAN'T UPLOAD ANY PICS / VIDEOS & I ALSO CAN'T CLICK ON THE LINKS IN MY TAGBOARD... I only uploaded the Adobe Photoshop v7.0 & Microsoft Excel & Words thingy in my PC, and I can't UPLOAD or CLICK in my blog!!!!!!! 气死我了!!!!! 为什么要这样对我??? 我有很多照片要upload!!!! Make me so 麻烦 to use Photobucket & Slide.com to upload pics & video!